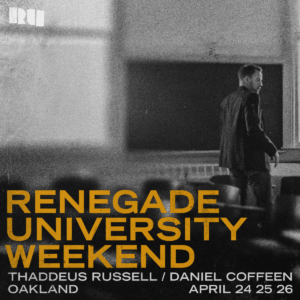 RENEGADE UNIVERSITY WEEKEND WITH THADDEUS RUSSELL AND DANIEL COFFEEN
Join Thad Russell, Daniel Coffeen, and other members of the Unregistered and Renegade University for a weekend of thought-provoking conversation and friendly debate.
This is an intimate and social gathering, where everyone has the ability to participate and interact with Thad, Daniel, and other attendees as much or as little as they like.
TICKETS ARE LIMITED! Please note, only 12 VIP and 38 General Weekend tickets are available due to the capacity and intimacy of the venues. Please purchase tickets as soon as possible to make sure you don't miss out on this incredible event.
JOIN RENEGADE UNIVERSITY TODAY